qtVlm can use S63 charts purchased from any S63 official provider.
Charts providers need a User Permit that we can provide, and you will also need an Activation Key specific to your device in order to unlock the maps for this computer or mobile device.
Charts purchased for qtVlm cannot be used with another application.
Process summary
puchase a User Permit specific to qtVlm using the button below
request an Activation Key for your device,
setup qtVlm,
add the charts.
Detailed process
1. Get a User Permit :
We sell User Permits at a price of 15€ (VAT included), please click on following link to buy one. We use PayPal service to manage the payment, it is not mandatory to have an account on this service, you can pay by Credit Card.
User Permit will be delivered to the email address used for the payment.
Buying a User Permit will not provide you with any charts, it will just allow you to purchase S63 charts for qtVlm.
Only one S63 User Permit for qtVlm is needed to purchase any number of charts from any official S63 charts reseller.
2. Request an Activation Key for a specific device
In order to unlock S63 charts on your device you need an Activation Key.
For this you need to request this Activation Key by sending an email to This email address is being protected from spambots. You need JavaScript enabled to view it., using the same email used to purchase the User Permit, and providing us with the following information:
User Permit
Hardware ID of the machine or mobile device, as found in qtVlm (see below screenshot).
Upon reception we will send you an Activation Key usable only on this specific machine.
Only one Activation Key is needed for a specific machine or mobile device.
You can request up to 3 Activation Keys for a specific User Permit.
3. Setup qtVlm
In qtVlm go in the menu: QtVlm => Configuration => Charts => S63: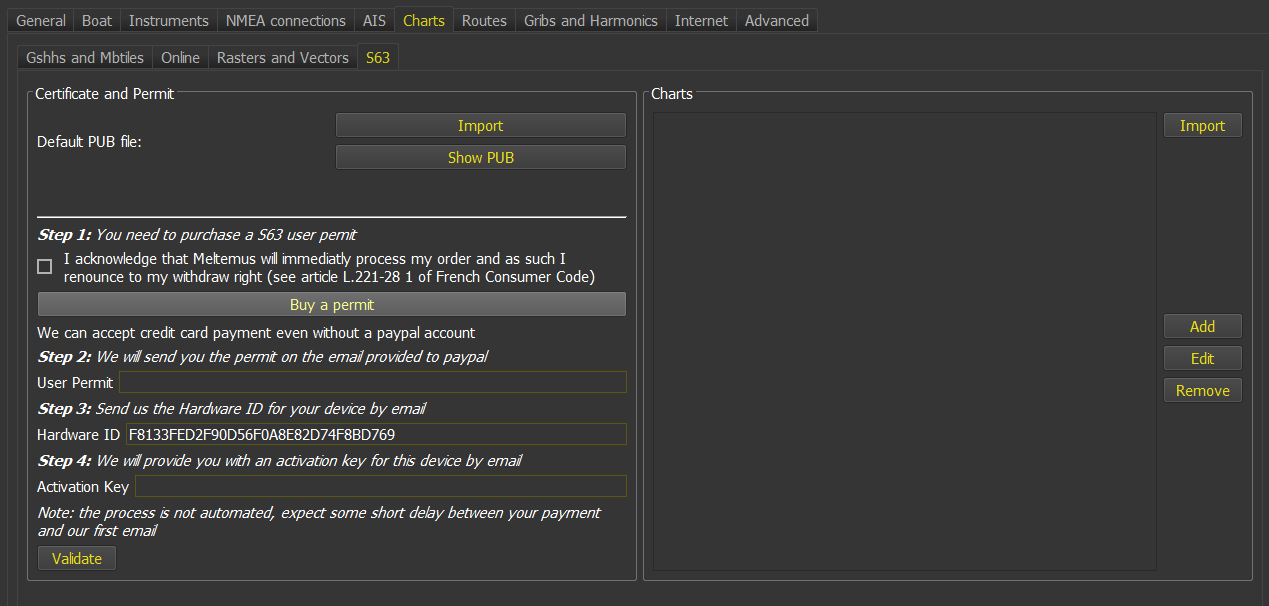 And input the User Permit and the Activation key.
 4. Add charts
Create a subfolder in S63 folder located in qtVlm home folder and put all files and folder provided, including PERMIT.TXT file.
For mobile devices:
On iOS: you need to put all the files in a zip archive, and send it to qtVlm through iTunes, email, or Airdrop,
On android: you can put all the files in a zip and send it via email or other means to your Android device, and open the zip file with qtVlm.
Please look in qtVlm documentation for a detailed description of map usage.
FAQ
How will I receive the User Permit: we will send the User Permit to the email address you have provided during payment
How can I get a new Activation Key if I change my device: just send us a new request and we will send back a new Activation Key.
How many Activation Keys can I get: You can get up to 3 Activation Keys, after this you will need to buy a new User Permit.
How can I get some more help: send us an email at This email address is being protected from spambots. You need JavaScript enabled to view it.